How Transferring Film to Digital Works
We have designed the whole film to digital conversion process to be PAIN-FREE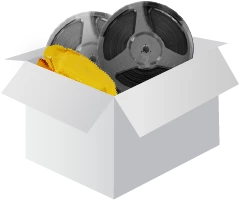 Send
All you have to do is ship your reels to us and we will take care of the rest for you.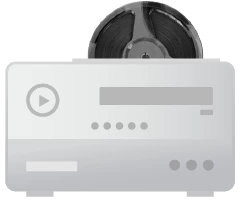 ScanCafe's Technicians
We will splice together your small reels of film onto a larger 7 inch spool. Your film will be returned to you on the larger spool. Your original empty spools will be returned to you as well. Your movies will be transferred at our Indianapolis lab with a 3-4 week turnaround time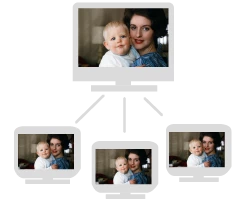 Enjoy & Share
At the end, you will have all your movie memories safely transferred from your tapes to a digital download, or USB drive.
What Sets Our Film to Digital Conversion Services Apart
Our Film to Digital Conversion Quality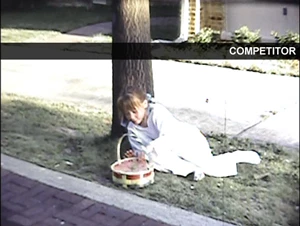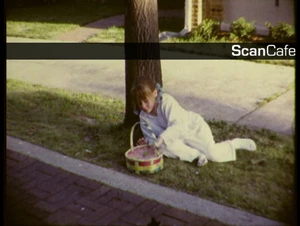 Note differences in frame size, color, and sharpness,. Movie: W Lagrone, 1971
Compare these two stills. They are from the same Super 8 footage--one scanned by a competitor, and one scanned by ScanCafe. Can you see the differences? We'll discuss them in some detail below.
Full Frame HD Scans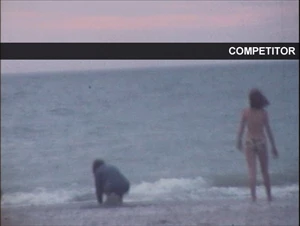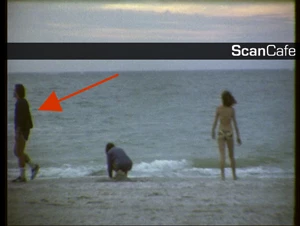 Why Full Frame Matters. In the large picture above of a "raw" HD scan of a single Super 8mm frame, the area marked "A" is what you would get with a typical SD scan, even some with "expanded" gates. But that still leaves a lot of your memories on the film. In the two smaller stills, taken directly from finished footage, you can see with the competitor you might not ever know there was a man walking by on the beach. Movie: W Lagrone, 1971
Our HD scans are designed to capture every last detail of what's on a movie frame, even if that movie frame image is larger than the traditional area set forth in the official SMPTE spec for 8mm and 16mm film projection and scanning. We do this because we believe your memories are important, and it's a big project to convert your home movies to digital. You only want to do it once. The only part of the frame we crop out are the sprocket holes of the film (some cameras did capture a little information above the sprocket holes). Whether you download the files or get them saved to a USB stick, you will still get the benefit of our HD scanning.
Our Handcrafted Approach to Video Conversion
At ScanCafe, we don't digitize 8mm and other movie film by threading your reels onto a machine and coming back when it's finished. Instead, every reel of your order is cleaned, viewed, scanned, and edited by a dedicated technician, who gives your memories the attention they deserve.
A technician will spend approximately up to 2 hours per movie film reel addressing all of the issues below, and then some. Handcrafted attention to your memories is the only way to ensure quality in the film to digital transfer process. For each movie reel we perform:

Physical Inspection, Cleaning, and Simple Repairs
Old movie film can have many problems, like deteriorated splices, curling, stains, and splotches. Your order begins with a thorough inspection, and your film will be spot cleaned and simple repairs like bad splices will be handled for you at no additional charge. We will also splice 50-foot reels together onto archival 400-foot reels.

Manual Full Frame (HD) Scans
Because movie cameras were very different in how much of the film they exposed, we have to manually adjust for each reel in order to give you the maximum amount of image. Automated services simply make all images the exact same size and crop. We will splice together your small reels of film onto a larger 7 inch spool. Once your old movie is transferred, your film will be returned to you on the larger spool, along with your original empty spools.
Manual Retiming
Old movie film was not meant to run at the same speed as your television, so in the process of digitizing your movie film, the speed must be adjusted. Automated services have to guess at how to do this speed adjustment based on what type of movie film you have--but even 8mm film had as many as 4 different possible film speeds! The only way to truly figure out how to adjust your old movie film for speed is to adjust it first, then look at it, and adjust again until the motion seems normal to a trained human eye.

No Interlacing
Another problem in retiming your old home movie film is what technique you use to make sure the film looks fine when it runs on television. Most services use a process called interlacing to adjust the speed of your film for television; the problem is, interlacing can cause annoying visual problems when you play your film. Because we think you should be able to enjoy your movies on your computer too, we use a technique that will minimize those problems.

Custom Title Generation
Titles are not an afterthought best left up to a computer. We allow you to name each reel, and we create beautiful film files whose titles will remind you more than a little of the last Hollywood movie you bought. We want watching your movie film memories to be a popcorn-and-soda experience for the whole family.