It's true that we often emphasize our ability to handle your scans by hand. And that's because we believe that hand-scanning is the key to getting a great scan. But you still need to begin with good scanning equipment, like the ones we use below.
Noritsu Film Scanners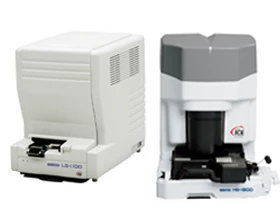 We use our industrial-grade Noritsu scanners for 35mm slides & negatives.
These workhorse, industrial-grade scanners (retail: $10-25,000) have impressed us to the point that we are now using them to tackle some of our biggest jobs.
However, as with all the equipment we use, we don't use them on an "out of the box" basis. It takes us months of testing to determine whether or not a piece of equipment fits our quality standards, and in that period of testing, we invariably find that we can use some of the features and software that come with the equipment, but not all, and even then usually after a little tweaking. With the Noritsus, we have found some use for the Digital ICE version that's packaged with the machines, and we have tweaked a number of settings, particularly color profile settings. In testing, both internally and with some of our advanced photography customers, these machines are now producing our best scans ever, with crisp accurate color and tremendous sharpness.
Nikon 9000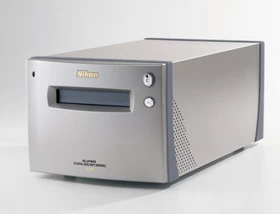 We use our Nikon 9000's for special media: medium format, black & white negatives, and most non-35mm film.
Our Nikon 9000 Coolscans are our go-to film scanners for special media, particularly black & white negatives and medium format. They used to retail for approximately $2,000 but are discontinued (fortunately, we have a large supply.)
We have long admired the optics on Nikon scanners and they do have a subtle signature look that many professionals have come to rely on. We have been using our 9000s ever since they came out, and they are terrific, flexible machines that we have adapted after a lot of work for our special wet-mounting process for black & white negatives. We don't use their GEM grain reduction software, however, as it tends to reduce sharpness
Epson 10000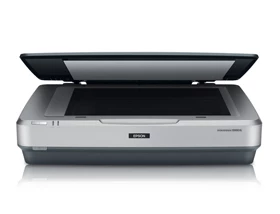 We use our Epson Expression 10000's for large-format positives and negatives.
For large-format positives and negatives, we've been pleased with our Epson 10000's (retail: ~$2,500).
They have a particularly large scanning bed, at 12" x 16", and--a rarity with scanners--the mounting units are sophisticated, helpful, and reliable. Plus, with much more optical resolution than typical flatbed scanners, and with tremendous color depth, they are a great choice for extracting nearly everything from large-format images. Using one of our Epson 10000's, an 8" x 10" transparency will produce a 600MP scan that could be print at billboard size with impressive sharpness.
Epson 4490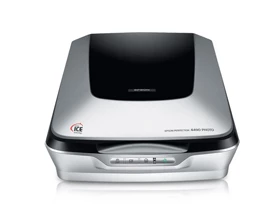 We use our Epson 4490's for paper photos to 8" x 10".
We have long experience with flatbed scaners, and that experience started with Epson 4490s (retail:$120). The even and accurate light source impressed us from the start, and we found the same strength in our Epson 10000, too.
We think flatbed scanners are great when--and only when--they are used for scanning prints. We have yet to see negatives or slides scan really well in a flatbed, despite all the attachments offered by manufacturers. That said, our 4490's do a fantastic job on paper photos, and so long as you keep the scanning bed perfectly clean, they are quite reliable.