Photo Scratch Removal Services
Perhaps you've watched an old family movie and the images were so obscured by scratches you could barely see the "stars" of the film! This is a common problem with movies, slides, and negatives. These types of images can run the gamut—from pristine to looking like they've been rubbed with sandpaper.
Scratching—The Invisible Threat
In the days of analog photography, steps were taken to avoid scratching, even in the drying part of the process. Most films contained a special coating of gelatin on the top layer that was intended specifically to prevent abrasion. Despite these precautions, slides, negatives, and film are easily scratched. In fact, it's so easy to scratch this material, some artists and photographers scratch or distress them on purpose and abundant online tutorials demonstrate how to do so.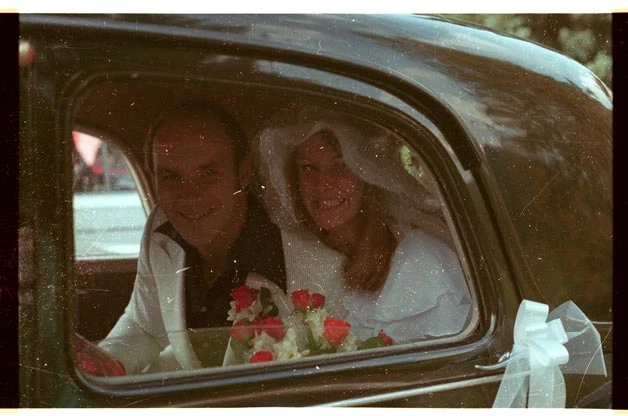 This is what we call a "raw scan". It has lots of dust and scratches, like most slides & negatives we receive.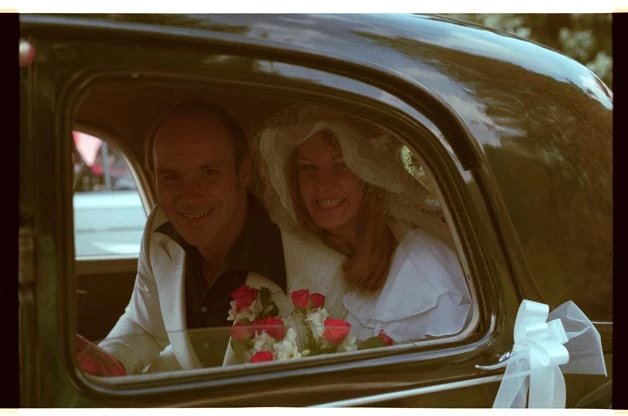 After Digital ICE and ScanCafe's standard manual repair, which removes any remaining scratches by hand.
This photo of an actual negative frame is roughly actual size. Can you see the scratches? Images most at risk of scratching — slides and negatives — present an additional problem because most scratches are nearly invisible to the naked eye. Typically, these scratches become noticeable only when the images are magnified to create a scan or print.
What Causes Scratching?
Although the light-sensitive parts of both color and black & white film are embedded in a layer of transparent gelatin, this is soft when wet and easily scratched during the development process. Automated film processors have rollers that can become encrusted with chemicals if they aren't cleaned and maintained properly, thereby causing scratches. When the film is printed, negatives can get scratched as they are transported through the machinery and when they are cut into strips.
After processing, negatives and slides can easily get scratched each time they're handled. This can also occur when they're stored improperly.
What Can Be Done?
Get your slides and negatives scanned and repaired:Although the following tips can help prevent scratches, none of them protect 100% from damage caused by children, pets, dust, or debris. Getting all your slides and negatives scanned (and repaired for current damage) creates a "digital negative" that is invincible, as long as you keep the file on a reliable hard drive or solid-state drive.

Avoid handling your slides and negatives: As tempting as it might be, every time you handle them, you're likely exposing these images to new dust, debris, and scratches.

Store slides and negatives in airtight containers, if possible: Air circulating on slides and negatives introduces dust and debris that can eventually result in scratches.

Be leery of DIY slide and negative cleaning: While it can be done, improper cleaning can make your slides and negatives worse. If you do clean a slide or negative with a cloth and some cleaner, wiping in a circular motion will recirculate some of the dust and scratch the image. That's why it's best to wipe in one direction only.
At ScanCafe, our technicians remove scratches manually to ensure that no clarity is lost in the process. Digitize your negatives, slides, and home movies today and you'll enjoy scratch-free images you can share with friends, family, and future generations.