Red-Eye Remover Services
We remove red-eye from the photos we scan for you. But unlike everybody else that we know of, we do it in a very old-fashioned way: by hand.
Red-eye is that annoying discoloration on a photo subject's eyes that you get when using flash while you photograph someone's face. Scientists have been experimenting with automated ways of removing it for years, and many of those techniques are now employed by off-the-shelf software tools. The problem with the truly automated systems, however, is that they are probabilistic--i.e., the software doesn't really "know" what an eye is, in the way that a human instinctively does. That can lead to results that are well below our quality standards here at ScanCafe.
An example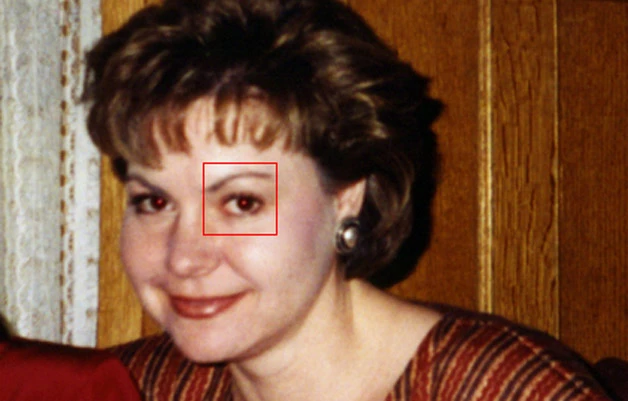 Red-eye in action. Note the highlighted area. We have scanned and repaired millions of images like this.
Comparing manual and automated red-eye removal techniques
Now let's zoom in in on the affected area. Let's compare the original with two examples: (1) what you get when you use an automated red-eye reduction tool (like, for example, the perfectly capable one in Adobe Elements) and (2) what we normally do at ScanCafe, as part of our standard service.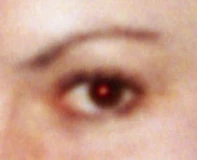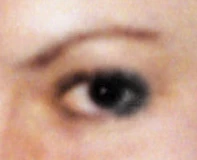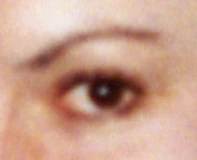 Left, the original affected area. Middle, using Adobe Elements automation. Right, our adjustment by hand.
See the difference? In the original image, you can see that the woman's eyes are actually brown. But in the middle photo, the software is not quite sure what areas to darken, because many of the areas in and around that eye have red tones in them. Consequently it darkens nearly the whole eye to black (wrong color!) and it even touches up the woman's mascara with black as well.
By contrast, our solution, which requires doing this by hand, correctly preserves the subject's original eye color, and leaves her mascara well enough alone. We think this is the right way to preserve your memories, and when you consider that this level of detail is included in the price of our standard servic which costs pennies per image, you can see why we don't recommend that anybody use automated solutions. In the end, a smart, capble, and trained technician is the best way to guarantee your memories look the way you remember them, forever.