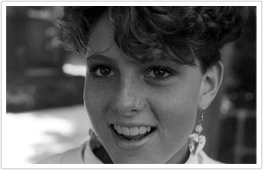 Our new black & white scanning service is only $0.69 per negative, including scratch removal.
We're unbelievably excited to announce our new patent-pending black & white negative scanning process.
Now, black & white negatives can be preserved, and scratches repaired, for just 69 cents per scan. Prices for a similar service from a local photo lab can easily reach $30 an image or more!
Our Proprietary Solution
Black & white negatives are well known for scratching. So, we worked for months with some of our professional customers to develop our new, one-of-a-kind process:
Patent-pending "wet mount" process — Negatives are encased in a special solution between two transparent surfaces and scanned, using our Nikon 9000 ED scanners
Repair by hand — Each scan is zoomed to approximately 1400 x 900 pixels, and visible defects are are repaired by hand
These two steps produce images of startling quality. Our early customers, like Roy Shigley of Berkeley, CA, have been impressed.
Win a David Hume Kennerly Print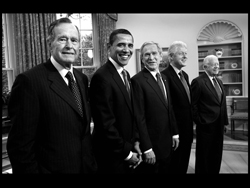 A limited edition print of this Kennerly "5 presidents" photo, a $2,000 value, is yours free if you order the most B&W negatives (over $500 worth) between now and March 29.
Try our new service today. As a special incentive, we'll give a framed, limited edition, 16 x 20 fine art print from legendary photographer David Hume Kennerly to the customer with the largest black & white negative scanning order over $500, between now and March 23, 2009.
This print retails for $2,000, so it's an amazing opportunity to get your B&W negatives digitized beautifully and receive an amazing framed photograph from our Pulitzer Prize winning advisory council member — all at the same time. Why not get started today?

Order size is based on the number of images you keep upon completing final checkout.*
We'll notify you by email if your order is the largest. Print to be awarded after the final checkout deadline.